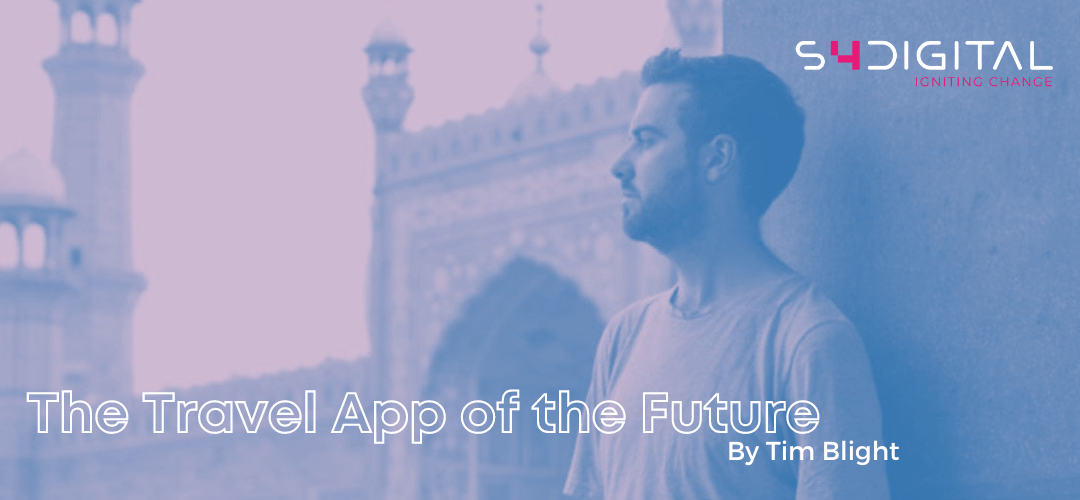 The Travel App of the Future
Do you want technology to enhance and revolutionise the way you travel? As someone who is truly passionate about travelling, I must admit to being a late adopter, although far from a technophobe. However, technology is opening up worlds of opportunity to make travel more convenient, and even if your holidays are decidedly low tech, or even if you're living the backpacker life, you might be surprised by just how useful new technology can be.
Artificial Intelligence (AI), the Internet of Things (IoT) – the connection of appliances and certain internet-based functions – and targeted social sharing apps are at the forefront of these developments. One particular area of interest is the development of so-called "aggregator" apps, incorporating aspects of both AI and IoT, which are able to cross-reference the data provided by other apps, websites, companies and services to consolidate a personalised, convenient travel experience. It's however crucial that tourism stakeholders can create unified and simplified experiences for their products and services — that they work when and where travelers want them to work. Multiexperience development platforms (MXDP) provide today a fast and effective way to create rich, interconnected user experiences across web, mobile, conversational, IoT applications. And there is a lot of untapped potential there.
A journey into the app of the future
Let's take a journey together into the travel app of the future. Let's say you book your flight on airline X's website from Hong Kong to Paris, and book five nights at Hotel Y through their website. A few days before your trip, the aggregator app will draw on the data shared by airline X to suggest a timely taxi pick up from your home in Hong Kong. Once you arrive in your Paris hotel room you'll need something to eat, so the aggregator will suggest nearby restaurants which are open at that time. It's 5pm, you're a bit stressed that you haven't changed Hong Kong Dollars into Euros yet, and you have a work meeting online at 8pm.
The aggregator app can see that as part of your airline X flight booking, you requested a vegetarian meal – it might also know from earlier bookings that you do not eat meat. From previous trips, it might also know that you tend to choose pasta as a comfort meal on your first night in a new city. It can also draw on your own work calendar and see your meeting timing, just three hours away. Finally, the aggregator is connected to your smart payment app. An offer appears on your phone – "Pumpkin gnocchi and a glass of wine, side salad and a small dessert. Restaurant A is 10 minutes walk from here. Table for 1 available between 6pm – 7:30pm, book and pay now?"
Your whole evening is sorted – no need to search for restaurants which serve vegetarian Italian dishes, no need to change money at least until tomorrow morning, and you have 30 minutes to walk back to the hotel after dinner and prepare for the meeting. Even if the service at the restaurant is a bit slow, no need to worry – you've already paid, so you can just walk away from your table at 7:30. And if you're not interested – all it takes is a tap on your phone's screen to make the offer disappear, and you can order room service and watch a movie. In fact, the app might even start recognising that this is your new pattern of behaviour after flights of more than eight hours.
Think about how useful this could be, and not just for a business traveller who arrives into Paris feeling hungry. Imagine you are on a family road trip over summer and arrive in an Australian beachside town without a room booked – it's 8pm, your eldest child is tired and wants to watch TV in a hotel room, your youngest is distraught because they haven't had the McDonalds meal you promised them earlier in the day, and your better half is looking at you wondering "maybe this trip wasn't such a great idea". An aggregator app could save the day by suggesting a nearby hotel with two televisions in separate rooms and quality room service (for everyone else) plus a McDonalds on the way with a drive-thru window (for little Bridget, bless her soul).
A valuable asset for backpackers too
What if you are a backpacker and you want to really get under the skin of a place? You haven't bought a local SIM card, and the app knows that you don't want to be harassed by alerts as you rough it through Pakistan's Karakoram mountains – so it leaves you alone for the most part. However, when you connect to the Wi-Fi at a guesthouse in the village of Ghizer, an alert silently pops up on your phone – the last traveller who stayed here went for a walk in the apricot orchards on the hill behind the guesthouse – it was seriously beautiful, and it wasn't even marked on the maps! Make sure you soak your feet in the stream for a while – it's total bliss – but use the stream on the left, next to the willow big tree, not the clean water stream on the right which services the village. The last traveller who stayed there wrote about it on their blog, and the aggregator drops the tip on to your phone, just in case you're interested.
And it's not just aggregator apps – in Ceutí in Spain and Bristol in the United Kingdom, an app called Be Memories is already in use which allows local residents to upload their pictures, experiences and tips about their neighbourhoods to a portal. Through this portal, visitors can tap into the local culture, visit places which the locals know about but which maybe aren't marked in tourist guides, and "live like a local" for a short time. Connecting to the authentic "word on the street" in an unorganised way, connecting with locals at nearby hangouts… technology has the potential to enhance not only organised, high-end "tourists", but all "travellers".
What this kind of technology promises is a sharing of local knowledge in a way never seen before. It's a problem-solving capacity beyond what we have come to expect from existing applications. It can supercharge the economy by linking the right customers with the right businesses, something which is win-win for both travellers and tourism industry providers. In the post-lockdown world with economies flagging, the impetus has never been greater. And finally, technology can connect the right people in the right places for a more ethical, sustainable tourism industry. If the tip about the stream in the apricot orchard is indicative of anything, it is that big data, big tech and big tourism doesn't need to bulldoze local industry in order to be successful… suggesting an unmarked, remote location to fellow travellers could help build cottage industries in that village, while only connecting the data where it's needed – to travellers who have already arrived at the village, rather than worldwide advertising which could encourage untargeted mass tourism to the village's detriment. The power to decide who receives the info alert about the apricot orchard could lie with the guesthouse owner, so he or she chooses whether the earlier traveller's blog turns up as a "local suggestion" on check in, or an "Saturday wanderlust" suggestion to the entire world.
A new raft of developments
And if you're wondering about how long we have to wait for these developments, the good news is that they are already here, albeit in a phase of rapid development.
What is perhaps most exciting about these aggregator apps is that for services which are seemingly so complex, they are remarkably easy to build. Much of what is possible through aggregator apps – connecting companies, individuals, service providers, government bodies, payment systems and artificial intelligence systems – is possible to create through low-code or even no-code development systems. What this means is that not only is the technology user-friendly, it's also programmer-friendly, and so easily adaptable to different scenarios and applications.
Being so adaptable and customisable, modern travel applications focussing on the sharing, aggregating and collating of data are already in use at airports. For example, data gathered from travellers' flight bookings (passport numbers, biometric security details, travel history etc) and even from government-held sources such as criminal and vaccination histories can be used to quicken the process at immigration. Smart gates with some airports are a perfect existing example of how this technology can be used to simplify a process. The potential for the implementation of this technology is perhaps only limited by our imaginations – think of how it could be applied to the check-in process, the waiting lounge experience, boarding, in-flight preferences, arrival, and hotel booking preferences.
Technology like this can also help to usher in a green new world of travel, too. Already, motion sensors are installed in hotels to detect "empty rooms", the data of which can be used to optimise electricity usage and reduce carbon emissions. The European Union is already pioneering "Smart Destinations" in its jurisdiction, and cities such as Helsinki and Tallinn have proposed drone mapping to survey nature reserves and identify erosion caused by foot traffic, and virtual view cameras at sensitive bird-nesting locations to allow visitors to see the birds without disturbing fragile habitats.
As with anything, there are disadvantages and risks – data protection being the primary one. Additionally, as a traveller my first reaction was to wonder if travel needs fixing at all, or whether these developments could destroy the magic of travel for future generations. No doubt, the adoption of new technology changes the dynamics of any industry, and raises a whole new range of ethical and professional questions to be answered. However, travellers and the travel industry have never shied away from innovation in the field – by its modern definition, it is dependent on technology. So while there will always be detractors, a good question would be whether those detractors use previous innovations in their travel, and if so, why this would be any different. And while businesses stand to benefit most from IoT – linked payment systems directing customers to shops is a marketer's dream – everyone will be eligible to reap the rewards of AI and IoT in the travel industry… whether they are exhausted after a transcontinental flight, or running a humble guesthouse among apricot orchards in the mountains.